DRUM REPAIR AND RESTORATION

Bearing Edge Drum Kit - Stripped and removed scratched and cracked gloss laquer and refinished with Mahagony Stain.

GP Cocktail Kit - Added Cymbal Mounts and Brackets, Custom bend Cymbal arms, recovered in Green Sparkle.  Custom Built "Reverse" Bass Drum Pedal from spare parts.

Raw Keller Drum Shell - Drilled for Mount, Lugs, Air Vent, Narrowed Custom Wood Hoops to fit, Stained from Unfinished Maple to Mahogony, Gloss Laquered Custom Wood Hoops.

Pearl Single Headed Toms - Drilled for Bottom Lugs, Cut 45 degree bearing edge for bottom head, added bottom rim and Pearl ISS Tom Mounts.

Vintage Ludwig Club Date Kit - recovered in Green Sparkle Wrap

Pearl Drum Set - Converted to "Silent" Electronic Kit.  Added Ddrum Triggers, Pintech Mesh Heads, Remo Muffle Rngs for Response, Riveted Triggers to and painted Pintech Plastic Cymbals.

Services Offered: 



- Drums Recovered / Refinished


- Bearing Edges "Trued"


- Mounts and Lugs Replaced


- Shells Repaired


- Hardware, Lugs, and Mounts Repaired


- Custom Mounting and Hardware Fabrication
I have experience working on HUNDREDS of drum sets. Please contact me with your ideas...Let's see if we can make them become reality!

Here are some example of recent work that I have done on various drum sets:

(click photo to enlarge)

Old Kent Red Sparkle 8"x12" tom cut down and converted to 5"x12" "Soprano" Snare Drum.  Ludwig Throw off and Strainer added, Snare Bed Cut, Bearing Edges "Trued" to 45 degrees, Snare Window Cut into Die Cast Hoop.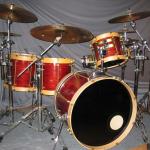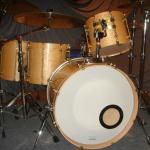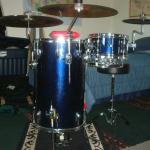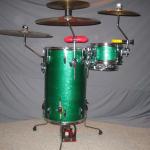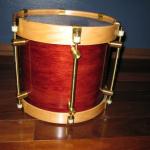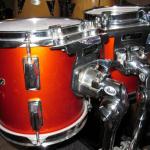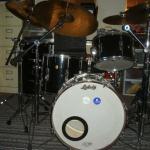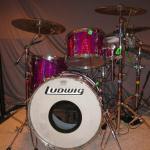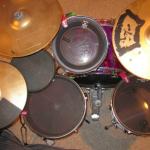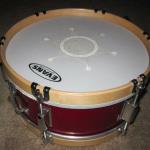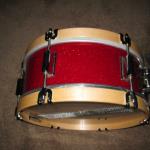 Gretsch Renown Beech drums with custom Wood Hoops from Precision Percussion.  Tom Mount added to Bass Drum, Internal Mufflers added to Toms