Brainpan Sound Studio:

24 Track Demo Recording!  Large Assortment of Instruments (Guitars,

        Basses, Banjos, Mandolin, Keyboards, Drum kits, Snare Drums,                   Percussion, Effects Pedals and Rack Units, Microphones, etc.
Percussion Rig - Congas, Bongos, Timbales, Tympani, Bodhran, Small toms, Various Tambourines, Shakers, Whistles, Cymbals, etc

Roland V-Drum Kit with TD10 Drum Brain.

SNARE DRUMS!!

6x12  Beat Boogie Maple Snare Wood Hoops 

3.5x14  Pearl Brass Shell Piccolo

3.5x14  Pearl Steel Shell Black Piccolo

7x12 Pearl Maple Soprano Snare Drum

4x14 Beat Boogie Patina Copper Snare

5x14  Ludwig Chrome Supraphonic

5x14  Ludwig Copper Supraphonic (not pictured)


5x14  Slingerland Vintage Chrome Snare

5.5x14 Gretsch New Classic in Burgundy Sparkle
5x14  Gretsch Catalina Ash Deep Red


6x14  Gretsch Maple Cherry (Wood Hoops)
6.5x14  Gretsch Full Range Maple (Wood Hoops)


6.5x14  Gretsch Full Range Maple 

6.5x14  Gretsch Hammered Steel Shell

8x14 Gretsch Full Range Maple Satin Ebony
5x14   Gretsch "Jazz" Copper Sparkle


5x12  Gretsch Chrome Side Snare
3.5x13  Sunlite Chrome Piccolo

5x8   Gretsch Blackhawk Mini Snare

5x14  Gretsch Dixieland Round Badge Vintage Snare​

​6.5x14  Chicago Drum Company Chrome over Brass

5x14  Pearl Chrome Snare

Drums: Gretsch New Classic in Burgandy Sparkle

22x18 Bass Drum

10x8 Tom

12x9 Tom 

14x14 Floor Tom

16x16 Floor Tom

14x 5 Gretsch Vintage Dixieland Snare in Orange Sparkle

Cymbals: Sabian

21" Prototype Ride

14" AA Vintage Thin Hats

10" AAX Splash

14" AA Thin Crash (or 20" AA Thin Crash)

16"AA El Sabor Crash 

18" HHX Chinese (or 15" AA Vintage Chinese)

Hardware: Pearl

Percussion: 

Roland SPD-S Sample Pad

LP Samba Cowbell

Pearl Drum Set Tambourine

Heads: Remo Coated Ambasador Tom Batters / Coated Ambassador Snare Batter / Coated Powerstroke 3 Bass Drum Batter

Drums: Gretsch Catalina Jazz in Copper Sparkle - Outfitted with electronics

Used for Acoustic Drums or Electronic Triggering

18x16 Bass Drum

12x8 Tom

14x14 Tom

14x5 Gretsch Catalina Jazz Snare

Cymbals: Sabian

21" Ed Shaughnessy Ride

13" AA Flat Hats

10" AAX Splash

14" AAX Studio Crash

16" AAX Stage Crash

14" B8 Pro Chinese

Heads: Remo Clear Emperors on Toms / Coated Ambassador on Snare

Electronics / Triggers:

13x3.5 Snare with Roland Dual Zone Electronic Trigger

Roland TD8/TD20 Drum Brain

DDrum Red Drum Rim Mount Triggers

Pintech Electronic Cymbal Pads for Hi Hat (works like real cymbals), Ride, 2 Crashes

Amp:  

In certain live situations, played through Crate Bass Amp (used as throne)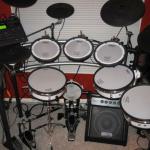 Drums:  Gretsch  Catalina Maple (custom wrapped in Red/Black Tiger by BB)

22x18' Bass Drum

8x7" Tom

10x8" Tom

12x9" Tom

16x16" Floor Tom

14x6.5" Gretsch Hammered Steel Snare (or 14x5" Gretsch Brushed Brass Snare)

Cymbals:   Sabian

14" AA Hi Hats

10" AAX Splash

15" AAX Dark Crash (or 18" AAX Xplosion Crash)

17" AAX Dark Crash

21" Ed Shaughnessy Ride

14" AA Chinese 

Hardware: Pearl (including Drum Rack

Pearl Demon Drive Double Pedal

Pearl Hi Hat Stand

Percussion: LP

Rock Rider Cowbell

Electronics: Alesis

Alesis Sample Pad 4 Pro

Heads:  Remo Clear Emperor on Tops of toms / Clear Powerstroke on Bass Drum / Coated Pinstripe on Snare Batter

We really like Gretsch drums.

Whole Yachta Love Drum Setup

Drums:  Beat Boogie in Custom Purple Veneer (orange veneer on snare)

15x 24 Bass Drum/Floor Tom (wood hoops)

10x5 Tom (wood hoops)

12x6 Beat Boogie Snare Drum  (wood rims)

Cymbals: Sabian

10" Fusion Mini Hats

10" AA Splash

15" Thin Crash

18" Paragon Crash/Ride

Hardware

DW 5000 Pass Drum Pedal (beater action custom reversed by BB)

Percussion:

LP Mini Jam Block Set

Heads:  Remo Clear Emperor on Tom Batters / Coated Ambassador on Snare

Milwaukee Tool Shed Band Drum Setup

Stand up "Cocktail" Drum Setup

Drums:  Gretsch USA Custom in Burnt Orange

20x18 Bass Drum

10x8 Tom

14x14 Floor Tom

15x15 Floor Tom 

14x5 Slingerland Chrome Snare (or 14x5" Gretsch Brushed Brass Snare)

Cymbals: Sabian 

22" Big and Ugly Apollo Ride w/ Rivets

14" HH Hi Hats                                                

8" AAX Splash

16" Prototype Crash                                      Electronics:

18" HH Dark Crash                                        Roland SPD-S Sampling Pad

14" AA Chinese                                                          

Hardware: Gibraltar Rack and Pedals

Heads:  Remo Coated Ambassdor on Tom Batters / Coated Reverse Dot Snare Batter


Coated Powersonic on Bass Drum Batter / Coated Pinstripe on 16" Tom
Impostor Taco Truck Drum Setup

Drums:  Gretsch USA Custom in Satin Ebony

22x18 Bass Drum

12x9 Tom 

15x15 Floor Tom 

18x16 Floor Tom

14x6.5 Gretsch Full Range Snare 

Cymbals: Sabian

22" David Garibaldi Ride

14" HHX Evolution Hi Hats

10" Prototype Splash

15" AAX Xplosion Crash (or 18" HH Medium Thin Crash)

17" AAX Xplosion Crash Crash

18" HH Chinese

Hardware: Gibraltar

DW 9000 Double Bass Drum Pedal

Heads:  Remo Clear Emperors on Tom Batters / Clear Pinstripe on 18" Tom / Coated Reverse Dot Snare Batter / Clear Powersonic on Bass Drum Batter

Drums:  Gretsch USA Custom in Satin Ebony

22x18 Bass Drum 

8x7 Tom

10x8 Tom 

14x14 Floor Tom 

15x15 Floor Tom

14x6.5 Gretsch Full Range Maple Snare

Cymbals: Sabian​

21" Prototype Ride

14" HHX Evolution Hi Hats

10" Prototype Splash

15" AAX Xplosion Crash 

17" AAX Xplosion Crash            

14" AAX Chinese (or 18" HH Chinese)

Hardware: Pearl

Pearl Demon Drive Double Bass Drum Pedal

Heads:  Remo Clear Emperors on Tom Batters / Coated Reverse Dot Snare Batter / Clear Powersonic on Bass Drum Batter

Practice/Creative/Home Studio Drum Setup

Drums:  Pearl Maple in Orange Wrap

24x14 Bass Drum

20x14 Bass Drum

6x8 Tom

8x8 Tom

10x8Tom 

12x8 Tom

13x9 Tom

14x14 Floor Tom 

16x16 Floor Tom (x2)

6-8-10" Remo RotoToms

12x7 Pearl Maple Soprano Snare

12x7 Pearl Maple Soprano Snare

Cymbals: Sabian​

21" Prototype Ride

14" AA Flat Hi Hats

8" AAX Splash

10" HH Splash

12" AA Splash

14" SRX Crash

16" HHX Xplosion Crash 

17" AA Metal Crash

16" Wuhan China Cymbal

10" AA Mini Hi Hats

Hardware: Pearl

DW 5000 Double Bass Drum Pedal

DW 5000 Hi Hat Stand

DW 5000 Remote Hi Hat Stand

Percussion: 

Rhythm Tech Drum Set Tambourine

LP Bongo Cowbell

Electronics: 

Roland TD8 Drum Brain

Hart Multipad

Fat Kat Bass Drum Pedal

Roland FT7 Hi Hat Pedal​

Heads:  Remo Clear Emperors on Tom Batters / Coated Reverse Dot Snare Batter / Clear Powersonic on Bass Drum Batters

Drums:  Brainpan Sound Drum Company (built by BB) in Bombay Cherry Laquer

22x16 Bass Drum 

8x8 Tom (wood hide-a-hoops)

10x9 Tom (wood hide-a-hoop)

14x12 Floor Tom (wood hide-a-hoop)

15x13 Floor Tom (wood hide-a-hoop)

14x5.5 Gretsch New Classic Maple Snare in Burgundy Sparkle

Cymbals: Sabian​

21" AAX Stage Ride

13" AA Flat Hi Hats

10" AA Splash

14" AAX Studio Crash 

16" AAX Stage Crash

14" B8 Pro Chinese

Hardware: Peace (Black Powder Coat)

Pearl Demonator Bass Drum Pedal

Percussion:

LP Salsa Cowbell

Electronics:

KAT Multi Percussion Pad

Heads:  Remo Clear Pinstripes on Tom Batters / Clear Emperor on 8" Tom / Coated Pinstripe Snare Batter / Clear Powersonic on Bass Drum Batter

Jazz Performance Drum Setup

Drums:  Ludwig 1956 Club Date in Red Sparkle (recovered by BB)

20x14 Bass Drum

12x8 Tom 

14x14 Floor Tom 

14x5 Ludwig Supraphonic Copper Snare

Cymbals: Sabian

20" Manhattan Jazz Ride

14" AA Sizzzle Hi Hats

12" AA Splash

19" Medium Crash

Percussion: 

LP Cowbell

Heads:  Remo Fiberskyn on all Drums

Drums:  Gretsch Maple Renown in Green Sparkle (recovered by BB)

22x18 Bass Drum 

8x7 Tom

10x8 Tom 

12x9  Tom 

16x14 Floor Tom 

14x6.5 Gretsch Full Range Snare

Cymbals: Sabian​

20" HH Ride

13" AAX Fusion Hi Hats

10" Pro China Splash

14" B8 Pro China

16"  Crash

18" Crash

Heads:  Remo Clear Emperor on Tom Batters / Clear Pinstripe on 16" Tom / Coated Reverse Black Dot Snare Batter / Clear Powersonic on Bass Drum Batter

Alternate Performance Kit